OC Weekly wrote about our Apples and Oranges Party. Check it out...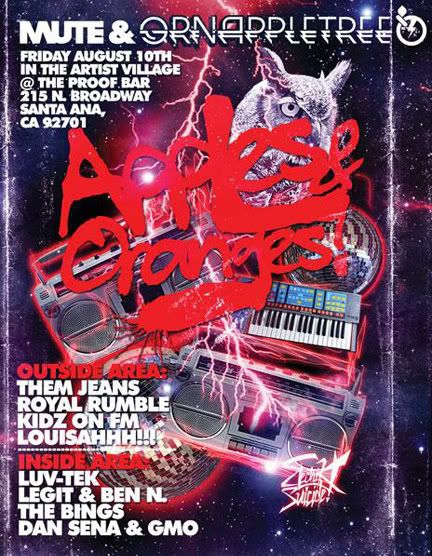 Club Apples & Oranges Is Delicious
Posted by Erin DeWitt in Painting The Town Red
August 11, 2007 12:51 PM
http://blogs.ocweekly.com/navelgazing/painting-the-town-red/club-apples-oranges-is-delicio/
Apples & Oranges, Mute's club held at Proof in Santa Ana, rocked the house last night.
First of all, the way Proof is set up practically guarantees a good time: One long room snazzily decorated with blue lights (red lights over the bar), not-quite-porno photography and lots of places to sit including luxe black couches (no VIP needed, how refreshing!).
Out the back is another equal size area outside and another (smaller) bar.
The rotating DJ set was genius, having one inside and another outside kept things from even getting close to dull. Them Jeans knocked my socks off.
The crowd was so stylish, girls were showin off the gams in babydoll and trapeze dresses while lots of the boys wore those sexy little hats that aren't quite fedoras... what are they called? Anyways, they're hot.
Quite a few photographers were roaming around; I'll get a picture up from one of them eventually, so sit tight.
Rony's Photobooth had set up a shoot outside, and anyone wanting to get their model on was welcome to join in. You know I did.
I've found my new favorite Friday nightclub, as long as I get there early to get drinks. By midnight the average drink wait was eternity.
Not that Proof was understaffed; there were just so many people who knew where the real party was.
You can see photos at: http://blogs.ocweekly.com/navelgazing/snap-judgment/photos-club-apples-and-oranges/