We are GRN Apple Tree are set on trying to bring you to the best events around Los Angeles and beyond. Every night there is normally something to do and we want to tell you about it. If you feel like we are missing something then please leave a comment and knock some sense into us.
Tonight-
Moscow:
Keith really knows how to put on a party and you should respect how long he has been involved in nightlife around Los Angeles.
Sahara: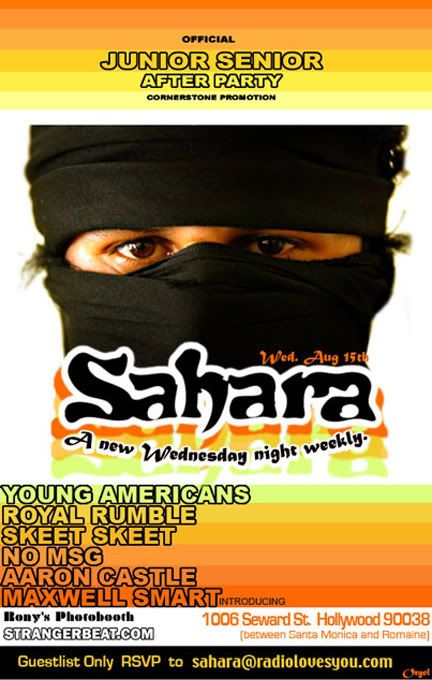 This is a new night that has created a lot of stir as of late. If you were at Apples and Oranges you may remember Royal Rumble...? Well they are spinning here tonight along with our other dynamic duo on the GRN squad known as Young Americans. This is the place to be tonight.
Busy Work: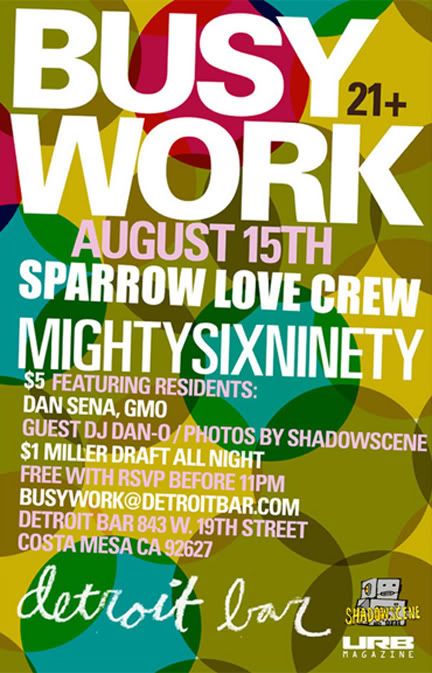 We have love for the OC and Dan Sena is making it happen right now. If you are in the area this is where every single Wednesday night should be spent.
Junior Senior and Gravy Train at the El Rey:
Get ready to dance!
Thursday-
Dance Right:
Come on people. This is where the party is at. Make sure you check out this diamond in the rough before it gets too big.
Stickball:
This is where you want to go to get your dance on.
Public Enemy at House of Blues on Sunset:
Best hip hop group of all time!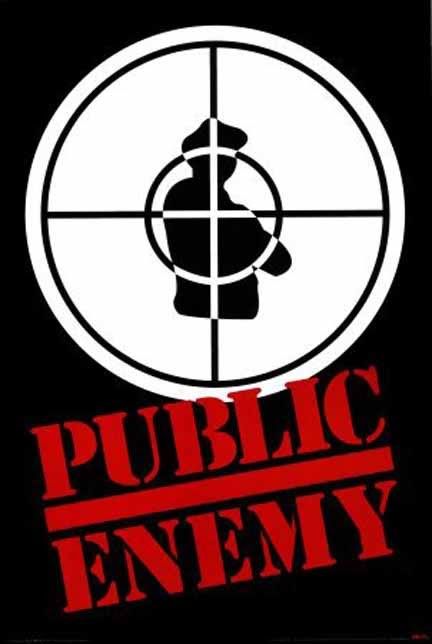 Friday-
We Like Girls:
GRN Apple Tree and Middle Class artists bring you some real fun with this one.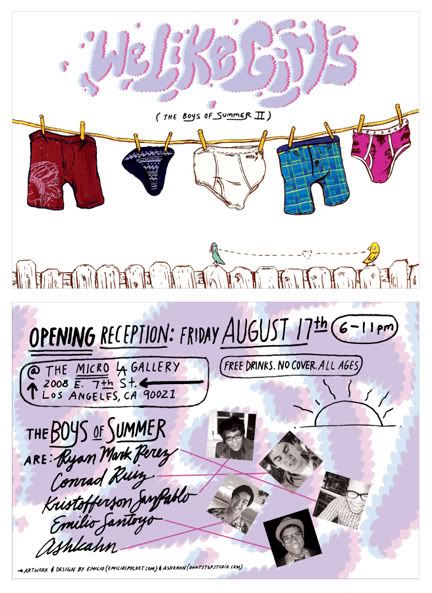 I Scream U Scream:
Hassan and Chris aka "White Girls" are hosting this and it is sure to be off the meat racks. Make sure you RSVP.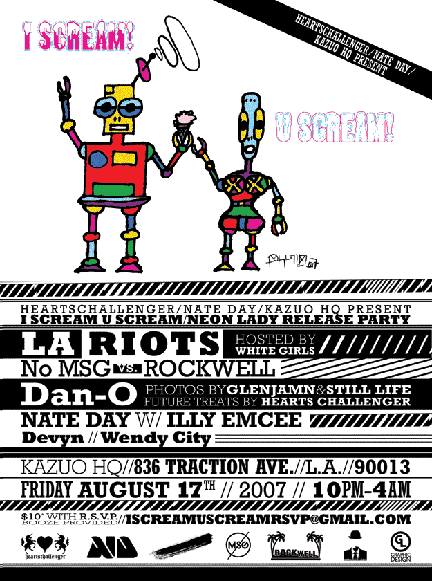 Buzzcocks at Spaceland:
See them early!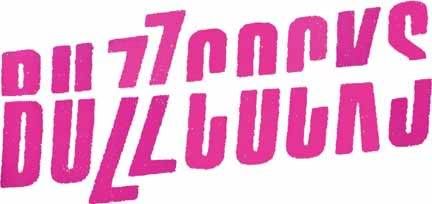 Saturday-
Sunset Junction:
This is going to be so awesome!!!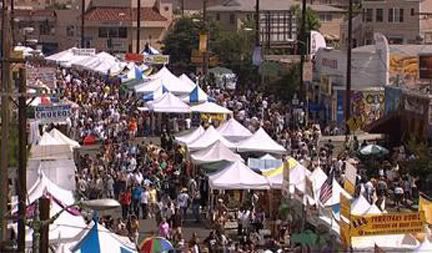 Lineup:
Hoover Stage
(4200 Santa Monica)
1:00 Crosby Tyler
2:00 Ritmo Flamenco
3:00 Bobby Matos
4:30 Raks Majnoun
5:30 Renaissance
7:00 The Emotions
8:00 Deniece Williams
9:00 Morris Day & The Time
Sanborn Stage
(4000 Sunset)
12:00 DJ Mr. French
2:00 DJ Sloe Poke
3:30 The Lions
5:00 Breakestra
6:30 Sy Smith
8:00 Medusa
9:30 Jesse de la Pena
Bates Stage
(4200 Sunset)
12:00 Renee Dawnson
12:40 Division Day
1:30 The Pity Party
2:20 The Parson Red Heads
3:15 Culver City Dub Collective
4:10 The Broken West
5:05 Sea Wolf
6:05 Autolux
7:30 Blonde Redhead
9:20 Ben Harper
Tofu Fest:
If you like great food and japanese people...this is the place for you.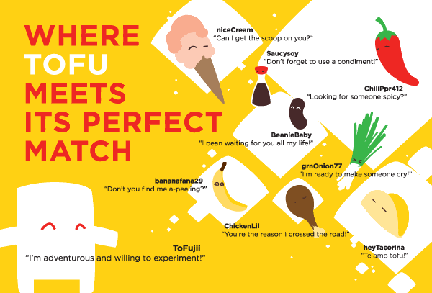 Check Your Ponytail:
Are you ready for fun?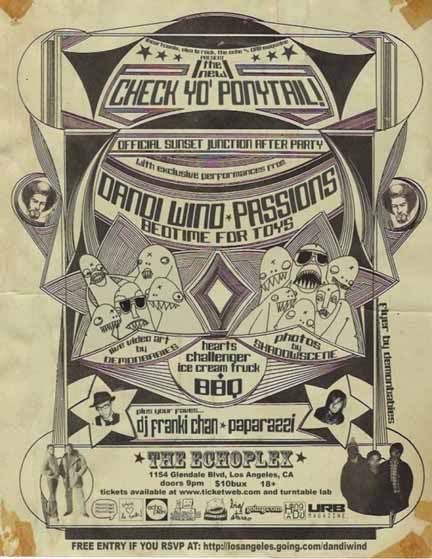 Tales of Colt 45:
This is the 4th installment.
Sunday-
Sunset Junction Day 2:
Hoover Stage:
1:00 Cuahtemoc
2:00 Mesmera
3:00 Vilma Diaz
5:30 Thelma Jones with Arthur Adams
7:00 Millie Jackson
8:30 The O'Jays
Sanborn Stage:
12:00 DJ Culture D
2:00 DJ Eric Coleman
3:30 Balfete
5:00 Conjunto Jardin
6:30 Rocky Dawuni
8:00 Chebi Sabbath
Bates Stage:
12:00 Tawny Ellis
12:40 Eskimohunter
1:30 The Movies
2:20 The Airbone Toxic Event
3:10 The Aggrolites
4:05 The Bronx
5:15 Hot Hot Heat
6:45 Buzzcocks
8:35 She Wants Revenge
Banana Split:
This party is the best close out for your busy week.
Blonde Redhead at the Glasshouse:
If you miss them on Saturday you can see them here!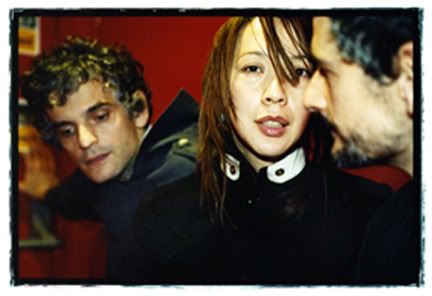 Beastie Boys at the Greek:
Instrumental!
Monday-
Dance Riot:
Get ready to riot!