RSVP to danceright@gmail.com for free entry and load up on the Dewars from 10-11PM. A couple drinks later you'll be flailing about and sweat spraying with an ever-impressive lineup of musical madness including this week's Adam 12! And watch out for that squid; she'll be capturing your dance moves on film...so dance...right.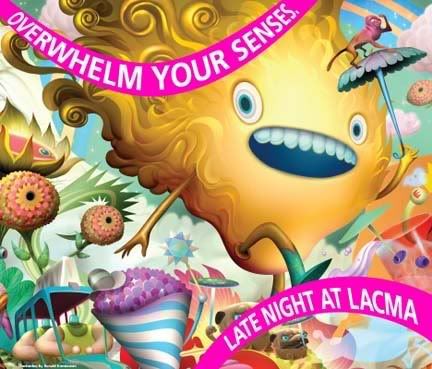 Thursday June 21st
LACMA Museum Event
Late Night at LACMA
DAN FLAVIN: A RETROSPECTIVE • DJ STEVE AOKI • IMA ROBOT •
THE REBIRTH • HAIRSPRAY SNEAK PREVIEW• LUCENT DOSSIER
VAUDEVILLE CIRQUE • HIT + RUN • MUSEUM OF TRAFFIC • DESIGN STUDIO
PRESS & GNOMON WORKSHOP BOOK SIGNINGS •
JUNE 21, 7 PM–3 AM | FREE
RSVP Only
The Heist is located at the Mensa Cafe & Lounge in Long Beach. The Heist brings you an epic evening not only in style, but in music as well. With resident main men, DJ SCORE & DJ BILLY NOORLAG present every Thursday night to bring you the best in Electro, Indie, New Wave, and whatever else will get those bodies moving. Complete with a smoking patio, full bar, plush lounge areas, & our beautiful Resident photographer DieDame (aka. Nakita), plus new videos every big event by "EDDIE V". The Heist is sure to make Thursday nights the new Saturdays.