today is FRIDAY:
Venue: MOCA Geffen Contemporary
Address: 152 N. Central Ave.
Neighborhood: Downtown
Phone: (213) 626-6222
From geometric paintings to super '60s films, "Wack!" offers plenty of conceptual entertainment.
This massive exhibition explores feminist themes through collage, painting, video, sculpture, text, photography and installation. The heavier works deal with violence against women and raging gender politics, while other pieces like the C*nt Coloring Book offer a more ribald, humorous perspective. In addition to showcasing famous artists such as Yoko Ono, Ana Mendieta and Cindy Sherman, "Wack!" explores a plethora of underground talents.
HUSH HUSH was started by producer/djs YOUNG AMERICANS as a monthly DIY house party in echo park at the HUSH HUSH House with Resident DJs YOUNG AMERICANS and THE ROYAL RUMBLE. After 4 mindblowing parties the HUSH HUSH boys faced an eviction notice and death threats unless they would agree to stop having the best parties of all time. Thus, the House was forced to close its doors and find a new spot to get down. Then, after doing a bunch of parties @ Cinespace in Hollywood HUSH HUSH moved once again and will probably keep moving. But one thing will always be the same and that is that if its HUSH HUSH you know the party will be bangin'.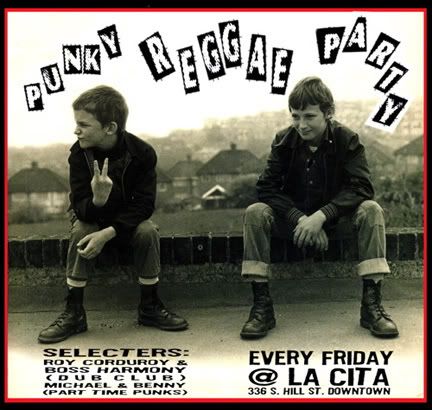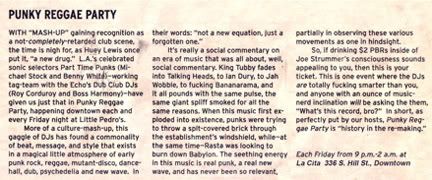 today is SATURDAY: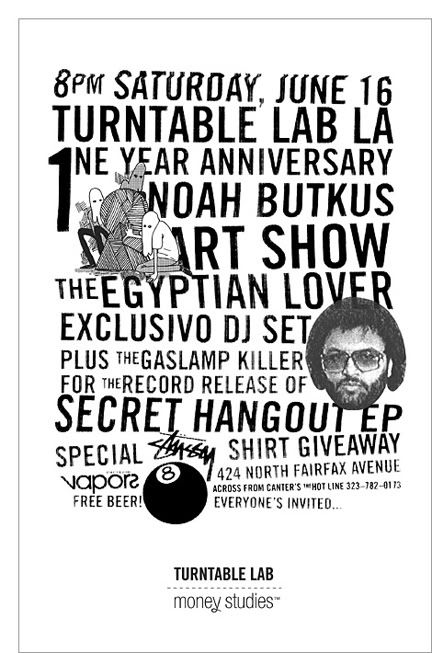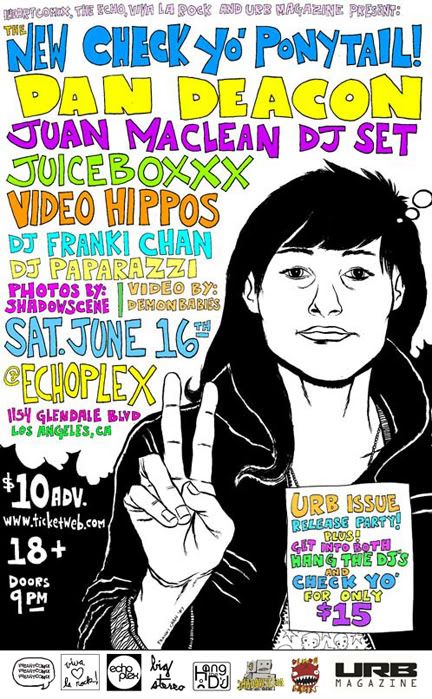 CHECK YO' PONYTAIL is a 18+ bi-monthly SATURDAY NIGHT party hosted by IHEARTCOMIX, THE ECHO, VIVA LA ROCK and URB MAGAZINE that takes place at the beand newTHE ECHOPLEX in ECHO PARK, CA.
The night features performances by the most exciting up & coming bands, surprise performances by established acts, special guest celebrity Djs and a raging dance party provided by resident DJs, DJ FRANKI CHAN and DJ PAPARAZZI !!!! The night also features party photos by SHADOWSCENE and several other surprise goodies.
Some past perfomances include: JUSTICE, SPANK ROCK, TEDDYBEARS, ADULT, MSTRKRFT, FLOSSTRADAMUS, THUNDERHEIST, YO MAJESTY, ERASE ERRATA, MATT & KIM, OK GO, DR OCTAGON, BOYS NOIZE, PARA ONE, SHOUT OUT OUT OUT OUT, THE KOOKS, THE HORRORS, ROXY COTTONTAIL, DIPLO, BONDE DO ROLE, ANDREW W.K., THE LASHES, DATA ROCK, STELLASTARR*, THE PRESETS, LO-FI-FNK, MIDNIGHT MOVIES, DARKER MY LOVE and many, many more....
today is SUNDAY:
Ask the average Los Angeles socialite what he or she will be doing on a Sunday afternoon and the answer you receive might not be very interesting. Perhaps vegging-out in front of the television or nursing a hangover from a wild Saturday night out. This was not the case, however, in the summer of 2005 when Sunday afternoons were made memorable at a little cabana-styled Hollywood getaway named Cranes Tavern. Respected members of the Los Angeles music scene, Chris Haycock and Jaime Strong, teamed up to bring meaning to Sunday afternoons with an unforgettable party playfully named Do-Over (Do your weekend all over). Haycock and Strong invited emcee Aloe Blacc to host the event and history was made.
Week after week, Do-Over grew to become a pleasure-full habit to a family of dedicated Sunday afternoon patrons. It became a regular hang out for the who's who of the LA scene, people looking for a good time from all walks, as well as desired venue for well-known deejays to share a mix. The element of surprise drove more and more people to this Sunday soiree just to see what guest deejay would grace the patio. There was something very special about this event and everyone wanted to be part of it. With very little promotion, relying mainly on word of mouth and throngs of dedicated patrons, Cranes Tavern often reached capacity early, leaving a line of folks outside patiently waiting to enter. Initially intended to run only from 2pm-9pm, Do-Over's overwhelming popularity consistently forced it to continue beyond scheduled